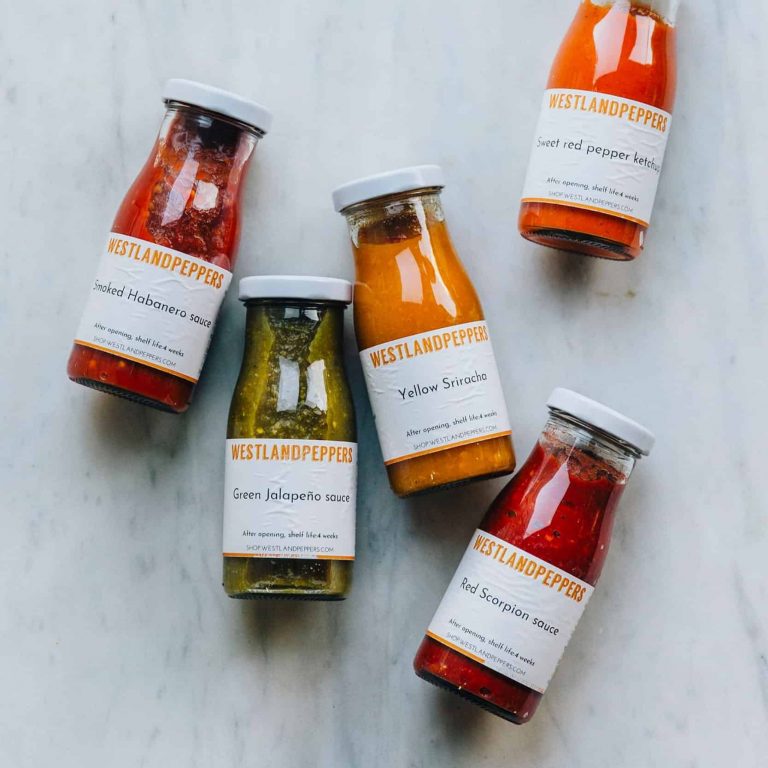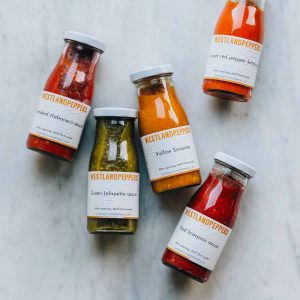 Westlandpeppers has its own range of handmade sauces. The sauces are produced at a local company in small batches to ensure an exclusive product.
In addition to vinegar, the sauces contain no preservatives or colouring agents. For the sauces, we use as many peppers as possible that we just can't use for the supermarkets, restaurants or consumers. By using this class 2 chillies we try to throw away as few chillies as possible. With this, we want to prevent food waste in a sustainable way.
Sauces
– Sriracha Sauce is a Thai sauce that has become big in the US. Westlandpeppers has created its own version with fresh mild chillies.
– Smoked Habanero Sauce is made from red habanero and dried and smoked chipotle peppers. The tropical fruity and very spicy habanero in combination with the dried and smoked chipotle makes that the sauce has a sweet, smoky and very spicy taste.
– Naga Jolokia Sauce is an extremely hot sauce made from fresh Naga Jolokia peppers of Westlandpeppers.
– Green Jalapeño Sauce contains freshly grown Jalapeños, Tomatillos and Epazote of Westlandpeppers. These Jalapeños, in combination with the tomatillo and herbs, give a real authentic Mexican flavour.
– Caribbean Scorpion Sauce is a devastatingly hot sauce and is made with pure and fresh Trinidad Scorpion peppers.
– Aji Amarillo Paste is an important ingredient in Peruvian cuisine. The Aji Amarillo chillies are the edible gold of Peru and have a spicy, fruity, colourful and creamy taste. It is the most widely used chilli pepper in Peru and by adding the Aji Amarillo Paste to a dish you create the taste of Peru in your own kitchen!
– Chutney, Madame Jeanette is a spicy jam made with Madame Jeanette chillies. A chutney is a seasoning that is often used in Indian and Pakistani cuisine, where it is served with every meal.
– Sweet Chili Sauce is a worldwide known sauce and Westlandpeppers has made its own version of this sauce with fresh Spanish red chillies. The chilli sauce has a fine structure and is made of red pepper, apple vinegar, garlic and sugar.
– Sambal 'Le beau Albert' is a sambal made by an Indonesian family, according to an old family recipe. This sambal is prepared with red chilli peppers grown by Westlandpeppers.
The sauces can be ordered in our webshop, for more information or other possibilities please contact us.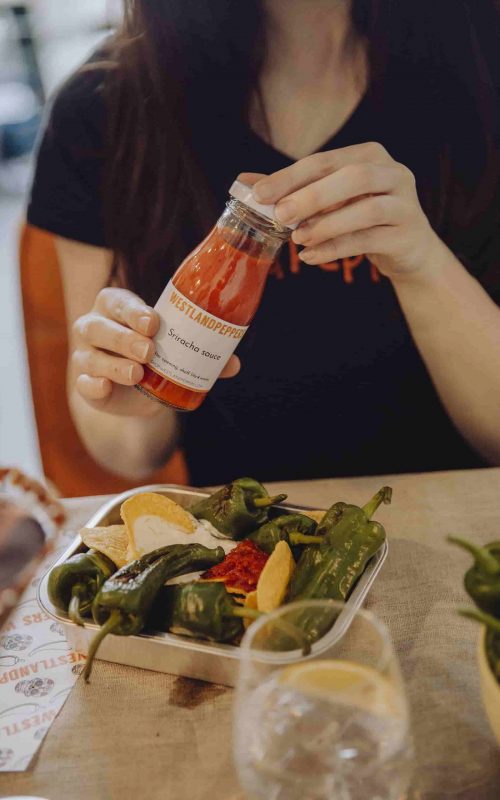 Make your own sauce
In addition to the sauce bottles, Westlandpeppers also has a range of packages with which you can make your own delicious sauce. These packages contain all the fresh ingredients to make the sauce. Below are two options, for more information or other options please contact us.
– Chili sauce package
– Jalapeño sauce package