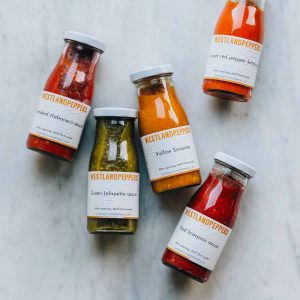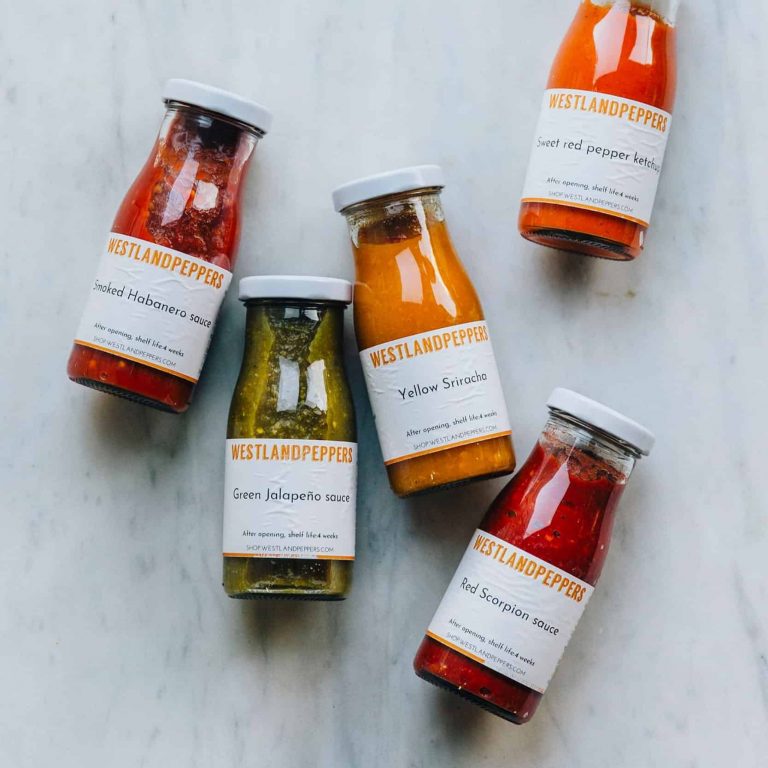 Westlandpeppers has its own range of handmade sauces. The sauces are produced at a local company in small batches to ensure an exclusive product.
In addition to vinegar, the sauces contain no preservatives or colouring agents. For the sauces, we use as many peppers as possible that we just can't use for the supermarkets, restaurants or consumers. By using this class 2 chillies we try to throw away as few chillies as possible. With this, we want to prevent food waste in a sustainable way.
Sauces
– Sriracha Sauce The Sriracha Sauce is a Thai sauce that has become big in the US. Westlandpeppers has made its own version with fresh mild peppers.
– Smokey Chipotle Habanero Sauce The Smokey Chipotle Habanero Sauce is made of red habanero's and dried and smoked chipotle chillies.
– Naga Jolokia Sauce The extremely hot Naga Jolokia Sauce is made from the fresh Naga Jolokia chillies from Westland peppers.
– Green Jalapeño Sauce The Green Jalapeño Sauce contains freshly grown Jalapeños, Tomatillos and Epazote from Westland peppers. These Jalapeños in combination with the tomatillo and herbs give a real authentic Mexican flavour.
– Caribbean Scorpion Sauce The Caribbean Scorpion Sauce is a devastatingly hot sauce and is made with pure Trinidad Scorpion peppers.
– Aji Amarillo Sauce The Aji Amarillo Sauce is a sweet and spicy sauce made with Aji Amarillo peppers and peach.
– Summer Heat Sauce Bring summer into your home with this Summer Heat Sauce, a sauce that is tropically sweet and fiery spicy. The pungent Madame Jeanette together with the pineapple, red and yellow peppers gives it a spicy, sweet and fruity taste.
– Madame Jeanette Sambal The Madame Jeanette Sambal is, as the name suggests, a spicy sambal made of Madame Jeanette chillies, which we also call Lemon Drop. The sambal consists for 85% of Madame Jeanette chillies and is therefore very rich in taste!
The sauces can be ordered in our webshop, for more information or other possibilities please contact us.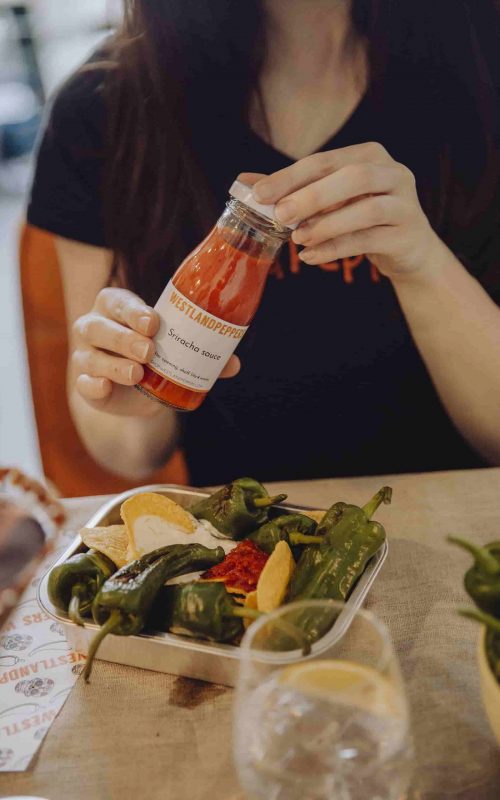 Make your own sauce
In addition to the sauce bottles, Westlandpeppers also has a range of packages with which you can make your own delicious sauce. These packages contain all the fresh ingredients to make the sauce. Below are two options, for more information or other options please contact us.
– Chili sauce package
– Jalapeño sauce package