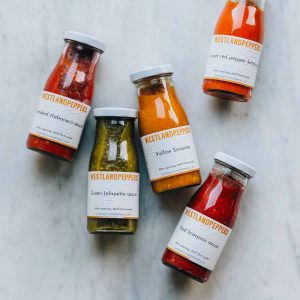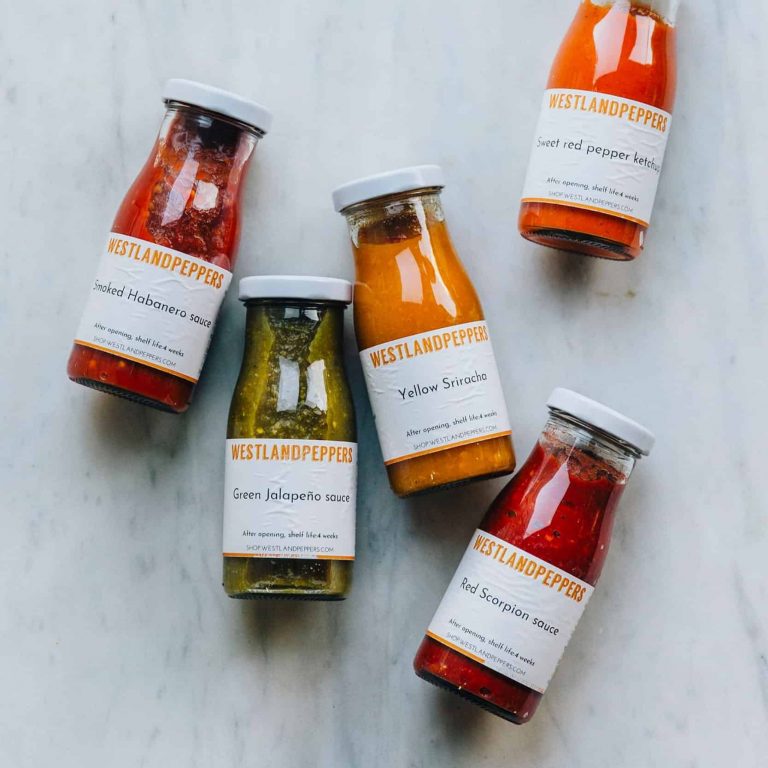 Westlandpeppers has its own range of handmade sauces. The sauces are produced at a local company in small batches to ensure an exclusive product.
In addition to vinegar, the sauces contain no preservatives or colouring agents. For the sauces, we use as many peppers as possible that we just can't use for the supermarkets, restaurants or consumers. By using this class 2 chillies we try to throw away as few chillies as possible. With this, we want to prevent food waste in a sustainable way.
Sauces
– Sriracha Sauce is a Thai sauce that has become big in the US. Westlandpeppers has created its own version with fresh mild chillies.
– Smoked Habanero Sauce is made from red habanero and dried and smoked chipotle peppers. The tropical fruity and very spicy habanero in combination with the dried and smoked chipotle makes that the sauce has a sweet, smoky and very spicy taste.
– Naga Jolokia Sauce is an extremely hot sauce made from fresh Naga Jolokia peppers of Westlandpeppers.
– Caribbean Scorpion Sauce is a devastatingly hot sauce and is made with pure and fresh Trinidad Scorpion peppers.
– Aji Amarillo Paste is an important ingredient in Peruvian cuisine. The Aji Amarillo chillies are the edible gold of Peru and have a spicy, fruity, colourful and creamy taste. It is the most widely used chilli pepper in Peru and by adding the Aji Amarillo Paste to a dish you create the taste of Peru in your own kitchen!
– Jalamayo is a delicious natural mayonnaise with a fantastic spicy kick from fresh Jalapeño peppers. Spicy, yet creamy and above all very tasty.
– Smokey Morita Sauce  is a spicy, smokey flavoured tabasco, ideal for tacos. The sauce owes its delicious taste to the Chipotle Morita pepper. The result is a spicy, fruity and slightly smoky sauce, which gets an extra deep flavour from the addition of cumin seeds.
The sauces can be ordered in our webshop, for more information or other possibilities please contact us.